Note: Including a cartridge of skin-friendly black ink. Go to Cartridge Page to choose more ink cartridge.
Enjoy designing your own bodymarks and body decorations anytime with the use of setting spray! Skin-friendly ink is 100% Safe, non-corrosive, water-soluble, and non-irritating. Get inspired with brilliant colors such as Navy blue, Red and Black. Have fun with friends and print temporary tattoos or put your favorite design, team logo, or brand on your skin for events, parties, or family fun.
Looking for a unique gift with a special secret? Communicate creatively with PrintPods. Using invisible ink, print your message or love note just for that special someone. Keep it a secret until viewed with UV light for a surprise and great delight! Unlock more fun and possibilities with PrintPods...

PrintPods allows you to do it all with ultra quick-switch ink types. Multitasking won't be a myth anymore! Have a fresh idea? Switch! New business needs arise? Switch! PrintPods has an ink to get any job done fast.
If you have tried other portable printers in the past that struggled to print on certain materials, you'll be blown away by PrintPod's magic powers. Wood? Plastic? Metal? Leather? Sure, you name it! Let PrintPods spark your creativity! Just one simple glide, and all your ideas instantly come to life.
Do you have tons of ideas but hit a roadblock when trying to print on curved or rough surfaces such as stones, glass, mugs, or even food? Here comes PrintPods to set your imagination free. Easy as 1-2-3, every print is as smooth as silk!
1 sec connect and print! Simple and fast.
Intuitive and user-friendly app interface makes your printing much smoother and easier! Download PrintPods app, connect to Wi-Fi, upload image or DIY, click "print" and done. Compatible with IOS and Android, truly worry-free.
PrintPods sparks all your desire for creative ideas with hundreds of unique in-app patterns. Boom! Just like magic, a new big name in art!
Half the size but superior battery life stands still! PrintPods' advanced battery technology makes every one of your ideas happen with 1000+ continuous prints. Dreams never settle, neither does PrintPods!
With just one single cartridge, you can effortlessly continuously print over 3500 times. 
Compared to other mediocre printers, PrintPods excels, especially in its print width. A 2x times wider print width doubles your output and lets you get more done in each pass. It's a productivity boost for business and lets you take your artistic creativity to the next-level.
All of us have experienced frustration when looking at the in-store print pickup price and quality. Low cost performance, fewer choices… PrintPods could your best piggy bank with super powerful printing functions. Every single print just costs you $0.01!
*What's in the box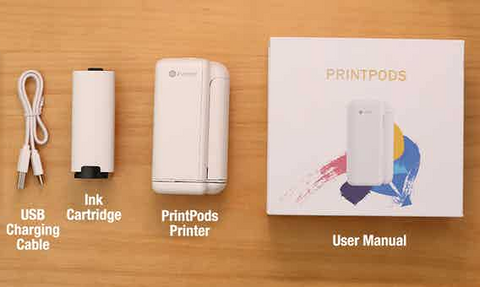 Absolute scam
Put 5 stars because they remove everything below that. It's a scam, does not work at all, they made a fortune in Kickstarter and then they deliver the cheapest thing they can make just to avoid the law. So... Stay away from it and from the whole company
Incredible...
Gave the review 5 starts, to make sure that it doesn't disappear ;-)
BEWARE!! DO NOT BUY! TOTAL SCAM!
The customer service (doesn't deserve the name, as it's more a diversionary tactics crew) is specialised in replying to your mails with instructions on how to clean or set up the device, but doesn't answer your questions at all and certainly does not react to a refund request. I asked for a refund, because the device is total crap. It simply doesn't work, the ink was already dried out when I received it (and it's not because I'm too stupid to connect it - my husband is an engineer and had a look at it). I feel totally ripped off (and I ordered a skin friendly cartridge together with the device and both don't work), so we're talking about more than a hundred bucks!
A shame.
Bad investment
I got this thing a few months back. Tried it out the first time and had streaks and smudged. Had to clean the print head after every use or it will clog. The guy in the commercial did it pretty damn good. How come I can't do it like him. Do not buy waste of money. I got this off of Kickstarter.
Careful
I wrote a review with one star. It appeared and disappeared straight away.
I wonder if this one will last longer.